Quick Links
Download Presentation Wizard
Presentation Wizard
Effortless multimedia windows applications.
Create professional interactive multimedia Windows applications with your graphics, music, video and other content... even if your only computer programming experience to date has involved an eight-pound hammer and a chainsaw.
No knowledge of Windows or other nasty digital stuff is required.
Presentation Wizard will assemble:
Interactive photograph albums — its Photo Album Wizard can create them in seconds.
Slide shows.
Digital portfolios that are way too cool to ignore.
Electronic books and brochures — add formatted, scrollable paragraph text.
Clickable catalogs. Paper catalogs can't talk — electronic catalogs can.
Instant electronic greeting cards.
Splash screens.
Custom Windows applications — replace days of costly programming with a few clicks.
Multimedia presentations that include music, sounds, video, animations and still graphics.
This software is available for electronic delivery and on DVD-ROM.
Presentation Wizard's Features Include:
Build quick electronic slide shows.

Write your own clickable advertisements, to distribute alone or with other products.
Assemble a distributable portfolio of your artwork.
Include graphics, animations and text fetched from your web server in your presentations.
Distribute your presentations with no viewers, run-times or DLLs to lose.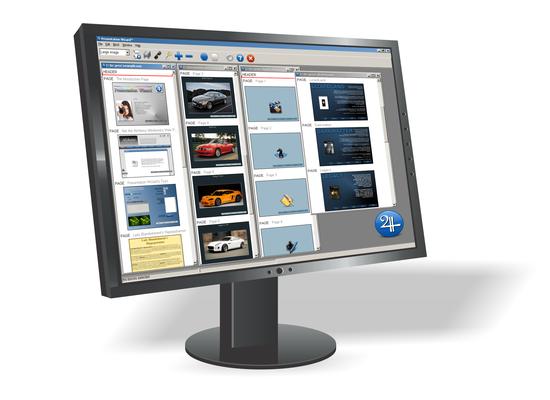 A Presentation Wizard presentation can be thought of as being analogous to a very intuitive book. Each page of the book can include pictures, animations, video, sounds and Windows controls such as buttons and list boxes. The pages can turn themselves or wait for their users to click on Next. Unlike the pages of a traditional book, they can talk to their readers if you like.
We suggest that you give the readers of your presentations a bit of warning should you have the pages you create talk unexpectedly — especially if some of them have weak hearts.
Whether you'd like to be able to e-mail an electronic photograph album to your relatives, distribute advertisements with a shippable product, allow users of your web page to download a multimedia catalog, show prospective clients samples of your work or assemble books that would have sent Johannes Gutenberg screaming from his workshop, wondering desperately if wasn't too late to invent the paperclip instead, Presentation Wizard will transform your ideas into a complete, professional Windows application.
Should you wish to contact us about this application, please send us some e-mail .
IMPORTANT: Presentation Wizard requires access to the Internet to validate itself after installation. Please see the discussion of registration key security for a detailed discussion of this functionality.
You can ensure yourself of a problem-free installation by reviewing our --> downloading and installation instructions . Downloadable installers can be used to install either an evaluation copy or a fully-functional registered copy of Alchemy Mindworks' applications.
Important: You might see a warning during download or installation of these installers concerning possible "malicious code." These messages are generated by Windows if you attempt to download and install most non-Microsoft software. They can be safely ignored.
Norton Antivirus: If you're running Norton Antivirus, please read the WS.Reputation notice before you download an installer from this page.
Internet Explorer and Edge: If you're using Internet Explorer or Edge as your web browser, please read the Smart Screen notice before you download an installer from this page.
Downloading: Note that you'll probably need to actually click on one of the following DOWNLOAD buttons to download an installer, rather than copying and pasting its link, or using it with a third-party download manager.
The last DOWNLOAD button — DOWNLOAD 2 or DOWNLOAD 3, depending on where you're located — points to our server in Great Britain. If you're outside North America — or if you're encountering issues downloading from our primary servers — please try the one in the UK.
The DOWNLOAD UK button points to our server in Great Britain. If you're outside North America — or if you're encountering issues downloading from our primary servers — please try the one in the UK.
Several web browsers have removed support for FTP downloads — that would be the DOWNLOAD FTP button below. If you click on DOWNLOAD FTP and nothing useful happens, yours is one of them.
If you encounter a problem downloading one of our installers, we're here to help — please contact us and let us know what happened.
Installing: Be sure you're logged into your system as a normal user, not as Administrator, when you install and subsequently run this software.
Presentation Wizard is available in 32- and 64-bit editions . The 64-bit edition is supported by 64-bit Windows 10 and 11. The 32-bit edition will run under any version of Windows right back to Windows XP.
Click on one of the following links to download Presentation Wizard 64-bit 14.0a revision 1. This file is 37,003,776 bytes in length.
Click on one of the following links to download Presentation Wizard 32-bit 14.0a revision 1. This file is 38,046,720 bytes in length.
The downloadable installer for Presentation Wizard includes an example presentation that illustrates some of its coolest features.
Alchemy Mindworks' applications won't install spyware, malware or other invasions of your privacy, and we're extremely careful about virus scans. Learn more about the security of our downloaded installers.
As of this writing, if you have previously registered or upgraded to Presentation Wizard 12, you can still upgrade to Presentation Wizard 14 for half price . We are able to provide some limited support for the version 12 software, but it's becoming increasingly vulnerable to changes in Windows and some third-party security products.
If you have previously registered Presentation Wizard 12 and you need to download the final release to reinstall your software, please contact us for a download link. Be sure to include your Presentation Wizard 12 registration name and key.
Presentation Wizard 2 through 11 have reached their ends-of-life, and they have been removed from distribution. We no longer have replacement installers for these products. We are able to provide replacement registration keys and limited support for Presentation Wizard 11. We recommend that you register Presentation Wizard 14 .
Please be sure to review the terms and conditions for distributing Presentation Wizard's documents. There's nothing particularly ominous therein, but the lawyers would have screamed loudly enough to have been heard in Patagonia if we hadn't included them.
Presentation Wizard™ is a trademark of Alchemy Mindworks Corporation.
The monitor graphic is used under license from DryIcons.
Business Software
Presentation Software
Presentation Wizard
Editors' review.
Presentation Wizard is a versatile program that allows users to create executable multimedia slideshows. Although we like the simplicity of its design, we do wish that the instructions were a little briefer.
The program's interface is uncluttered, with a small handful of buttons and menus. For the most part, the program is intuitive, and it's not hard to get started even without reading the instructions. However, users who don't read the instructions are likely to miss some important features, such as options for customizing backgrounds and other characteristics throughout the slideshow. And that can be a bit of a problem. We think that this may be the first time that we've complained about the length of a program's user manual. Although it's quite well-written and funny, after a while we got tired of wading through paragraph after paragraph and wished for a numbered list of steps with some screenshot examples. The program is actually quite easy to use, but the extensive and wordy Help file needlessly complicates it. Once we started experimenting on our own we found it easy to create new slides and insert images, text, and other media. Slideshows are easily saved as executable files that can be played independently, and the finished product is professional-looking and attractive. Overall, we liked that the program was both easy to use and flexible; we just wish that the documentation was a little more to the point.
Presentation Wizard is free to try. It installs and uninstalls without issues. We recommend this program to all users.
Full Specifications
What's new in version 2.0a patch 59, operating systems, related software.
Presentation Pointer
Presentation Assistant
Developer's description.
Presentation Wizard from Alchemy Mindworks lets you use the features you require without the rest of it getting in your way. E-mail electronic photo albums to relatives, distribute advertisements with shippable products, allow users of your web site to download a multimedia catalog, show prospective clients samples of your work.
Get the best price on everything
Shop your favorite products and we'll find the best deal with a single click. Designed to make shopping easier.
Presentation Wizard 9.0a revision 2

Get started with computers
Learn Microsoft Office
Apply for a job
Improve my work skills
Design nice-looking docs
Getting Started
Smartphones & Tablets
Typing Tutorial
Online Learning
Basic Internet Skills
Online Safety
Social Media
Zoom Basics
Google Docs
Google Sheets
Career Planning
Resume Writing
Cover Letters
Job Search and Networking
Business Communication
Entrepreneurship 101
Careers without College
Job Hunt for Today
3D Printing
Freelancing 101
Personal Finance
Sharing Economy
Decision-Making
Graphic Design
Photography
Image Editing
Learning WordPress
Language Learning
Critical Thinking
For Educators
Translations
Staff Picks
English expand_more expand_less
PowerPoint 2003 - Using the AutoContent Wizard
Powerpoint 2003 -, using the autocontent wizard, powerpoint 2003 using the autocontent wizard.

PowerPoint 2003: Using the AutoContent Wizard
Lesson 6: using the autocontent wizard.
/en/powerpoint2003/applying-a-design-template/content/
Introduction
By the end of this lesson, you should be able to:.
Use the AutoContent Wizard
The AutoContent Wizard
PowerPoint has an AutoContent Wizard to help you create a presentation. The wizard provides several slides with different content guides. Presentation guides are available in several areas, including general, corporate, and sales and marketing.
To use the AutoContent Wizard:
In the task pane under New Presentation , choose From AutoContent Wizard .
Click Next to see the different presentation options that are available.
Choosing a presentation type
As you continue working in the wizard, think about what you presentation best fits your needs. If you're not sure which choice to make, try General - Generic .
Click Next after you have chosen a presentation type.
Type of output
The next screen asks, What type of output will you use?
Because you will likely be doing an On-screen presentation , click inside the circle next to On-screen presentation. Or, if you are not, feel free to choose another presentation type.
Click Next .
On the next screen, you can type in your Presentation Title . Add a footer if necessary.
The last AutoContent Wizard dialog box appears.
Click Finish .
Your slides will appear, and you can go through each one and make changes to the content. Edit the slides in Outline View in the left pane, or type directly into the slides in the center pane.
Making changes to content
When you use the AutoContent Wizard, the slides that result are a guide for your actual content. Make the changes necessary to fit your presentation.
For example, if you are working on a General - Generic presentation about your organization and how it helps the community, your first slide might look like this:
You may want to add or delete some of the slides based on your content or add a different design or color scheme.
Open the AutoContent Wizard .
Choose a Presentation Type .
Add a Presentation Title .
When you Finish , make changes to the first page of the presentation.
Click through the presentation in Outline View .
Close this presentation without saving the document.
Open the Where I Learn presentation.
Insert a new slide with a title placeholder and a bulleted list placeholder (Title and Text).
Type a title and some interesting information about where you learn. Format this information so it is not in a bulleted list.
Save and close the document.
Congratulations! You just completed your first challenge presentation in PowerPoint 2003.

/en/powerpoint2003/formatting-text/content/
Using the Presentation Wizard
You can start Impress in several ways:
From the system menu or the OpenOffice.org Quickstarter. Details vary with your operating system; see the Getting Started guide if you need more information.
From any open component of OOo, click the triangle to the right of the New icon on the main toolbar and select Presentation from the drop-down menu.
From any open component of OOo, choose File > New > Presentation .
When you start Impress, the Presentation Wizard appears.
Select Empty presentation under Type . It creates a presentation from scratch.
Click Next . The Presentation Wizard step 2 appears. The figure below shows the Wizard as it appears if you selected Empty presentation at step 1. If you selected From template , an example slide is shown in the Preview box.
Choose a design under Select a slide design . The slide design section gives you two main choices: Presentation Backgrounds and Presentations . Each one has a list of choices for slide designs. If you want to use one of these other than <Original>, click it to select it.
Impress provides about 25 types of Presentation Backgrounds that you can select from the list shown in the figure below. <Original> is an empty background. You can also select among three predefined Presentations : <Original> , Introducing a New Product , and Recommendation of a Strategy .
To start with a blank presentation select <Original>. Click an item to see a preview of the slide design in the Preview window.
Select how the presentation will be used under Select an output medium . Generally, presentations are created for computer screen display, so you would select Screen .
Click Next . The Presentation Wizard step 3 appears.
In this step you can choose the desired slide transition from the Effect drop-down menu. Select the desired speed for the transition between the different slides in the presentation from the Speed drop-down menu. Medium is a good choice for now.
Click Create . A new presentation is created.

– Learn apps that run great on Linux, Windows, and Mac
Presentation wizard in LibreOffice
Presentation wizard for libreoffice.
The Presentation wizard has been a standard feature in LibreOffice for many versions. It allows you to add templates, set up slide transitions, and give general information about the presentation.
Starting with version 5.3, The Document Foundation has abandoned the wizard. They instead improved the Template Manager, and that is used to set up new presentations.
However, many Linux distributions come with older versions of LibreOffice with the installations, so this page covers the old wizard.
The Presentation Wizard can be accessed from the Wizard sub-menu in the File menu in StartCenter and any one of the six applications, so it can be launched from Writer, Calc, Draw, Base, and Math, as well as Impress.
The other way to launch the wizard is to set it so it appears when you create a new presentation. This way the wizard appears, and you do not see the document until you go through the steps.
Setting up to launch before a new document
Click the Tools menu, if you are using Windows or a Linux distro. For Mac users, click the LibreOffice menu.
Windows and Linux distro users, click the Options item. For Mac it will be Preferences. This launches the Options window, which has settings for Impress and the suite as a whole.
Click the arrow to the left LibreOffice Impress in the left column.
Click on the General item.
Under the New Document section, put a check in the Start with Wizard box.
Click the OK button.
The next time you create a presentation the wizard will appear first. Now let's look at the wizard and its steps.
Going through the wizard's steps
After clicking the new presentation button, the wizard launches with step 1.
There are three choices. There is a Preview check box. A check in it allows you to see the choices when you make them.
Empty presentation: This will leave the presentation with a white, empty background. However, in step 2, you can change the slides' background color.
From template: Putting a dot in this radio button reveals a drop-down menu and a list box. The drop-down menu has two choices: Presentations and Presentation Backgrounds. The option box changes based on the drop-down menu.
Presentations
Midnightblue
Presentation Backgrounds
Abstract Green
Abstract Red
Abstract Yellow
Bright Blue
Inspiration
Open existing presentation: A mark in this radio button reveals an Open button. Clicking this button launches an Open window that allows you to choose a desired template.
After adjusting the settings in step 1, click the Next button to move on to step 2.
In this step, you can choose a slide background design and the type of output the slide will be designed for. Click the Preview check box to put a check in it to see the changes as you make them.
Select a Slide Design
Like in step 1, there is a drop-down menu and a list box. The choice in the drop-down menu affects the choices in the list box.
<Original>: This keeps the settings from step 1. Choosing another item in the list will negate the settings in step 1.
Select an Output Medium
There are several choices. Simply click the desired radio button:
After adjusting the settings in step 2, click the Next button to move on to step 3.
Step 3: This step allows you to set slide transitions. In the first section, Select a Slide Transition, there are three drop-down menus: Effect, Variant, and Speed.
The option you select in Effect will change the Variant drop-down menu. Below are the items in the Effect menu. The Variant choices are sub-points under its Effect:
Bottom to Top
Right to Left
Left to Right
Top to Bottom
Clockwise 1 Spoke
Clockwise 2 Spokes
Clockwise 3 Spokes
Clockwise 4 Spokes
Clockwise 5 Spokes
Clockwise 6 Spokes
Clockwise 7 Spokes
Clockwise 8 Spokes
Random Bars
Through Black
Horizontal In
Horizontal Out
Vertical In
Vertical Out
Top Right to Bottom Left
Bottom Right to Top Left
Top Left to Bottom Right
Bottom Left to Top Right
Speed, the third drop-down menu has three choices regardless of what is selected in the Effect and Variant drop-down menus:
In the Select the Presentation Type there are two choices: Default and Automatic. When the Automatic radio button is selected, the presentation will run the automatically.
For both text boxes, you can type in the time or click the up and down arrow buttons. Each click adjusts the time by one second per click.
After you are done, click the Create button. If you have chosen From template in step 1, the Next button will be active. This will take you to step 4, which is a form that add text to your presentation.
Step 4: This step has three fields:
What is your name or the name of your company?
What is the subject of your presentation?
Further ideas to be presented?
Step 5: There are two check boxes Create summary and Preview. Creates summary is a summary of all the presentation's contents. Preview shows you how the information you entered in step 4 will be displayed.
Lastly, click the Create button. The new presentation will appear with the chosen template and the information that you typed in step four, if you chose From Template in Step 1.
Share this:
All > Presentations (16:9) > Presentation Slides
Presentation Slides
Present yourself well
Creating a presentation slide is easy, but creating a good presentation slide is anything but. You want your slide to add to your presentation, not take away from it. An intriguing design can lead to an intrigued audience. Make sure to wow them with Design Wizard's series of presentation slide templates.
Other Presentations (16:9) templates
Creative Presentations
Newsletters
Facebook Covers
infographic
Photo Collages
Bookmark Templates
Lesson Plans
Facebook Posts
Recipe Cards
Invitation Templates
Card Templates
Gift Certificates
Certificates
Desktop Wallpapers
Letterheads
Report Cards
Loyalty Cards
book covers
Magazine Covers
announcements
Instagram Posts
Instagram Stories
Business Cards
Web Banners
Podcast Covers
Wedding Templates
Creative Crafts
International Dates
Album Covers
Presentations (16:9)
A good first impression
Presenting can be a difficult task at the best of times. When the nerves set in it might become difficult to showcase your best self. Our thoughtfully designed presentation slide templates make sure you have one less thing to worry about.
It's critical that the message you are trying to get across is easily understood. It has to be displayed well and include all of the important information. Our presentation slide templates allow you to do just that. The designs aren't overly complicated and leave ample room for diagrams, descriptions, charts, graphs and images.
These presentation slides are ideal for work or college presentations. Many of the slides feature brighter colors contrasted with darker shades. This makes it easier for the eye to focus on specific details. If your slide is too dull it will become repetitive and will fail to capture the attention of those who view it.
Including your own images is a piece of cake. Drag and drop them onto the upload button to use them in your design. You can also pick from our large range of stock photos.
The perfect presentation
If you have a Facebook, Twitter or Instagram page that you want to share your slide on, you can convert it into a size that is ideal for a social media with our magic resize button.
Our composition graph can add to the aesthetic of the slides by zoning in on smaller aspects and ensuring they are straight and symmetrical.
If you have numerous different images that you need to replicate. You have the option to copy any image or element in the canvas. This can be very useful when you have to use the same image in different presentation slides.
How to design a presentation slide in 4 simple steps
1. Select your presentation slide template from over 17.000 ready-made templates.
2. Select one of more than 1.200.000 images or upload your own image.
3. Change the color and text of your message using over 100 fresh fonts.
4. Share or download your own brand new presentation slide.